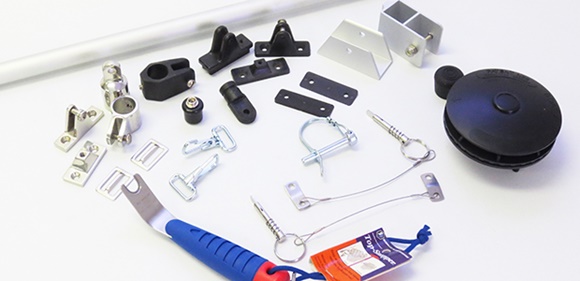 Bimini Top Fittings

Bimini top fittings made from stainless steel, nylon and aluminum. Eye ends, jaw slides, deck hinges, pad eyes, pull pins and many more parts for your bimini top.

Boat Cover Attachment Hardware

Boat cover attachment hardware including snaps, turn-lock fasteners, windshield clips, screw studs, double studs and many more fasteners for your boat cover or canvas product.

Adjustable Support Poles

Adjustable boat cover support poles with cam-lock support. Features include anodized finish, a rubber base and a tip with a nylon plug for a vent or a snap tip for snapping to the cover pad.

Available sizes are:

26" - 47" and 32" - 59"

Boat Cover Vent

Boat vent made from polymers with high UV inhibitors will prolong the life of your boat interior by venting the space of moisture and warm air. Prevention of condensation in your boat will allow you a water-tight protective boat cover without worry of damage caused by moisture being trapped inside the boat.

Can also be used in tent and tarp applications where breathability is necesary.

Top Snapper Tool

Top Snapper tool allows you to fasten your enclosure snaps from inside or outside the boat. Also ideal for unsnapping covers without damaging the canvas or snapping the cover when the canvas is shrunken.

Lifetime warranty.

Boat Cover and Top Care & Cleaning Products

Boat cover and top care and cleaning products from 303®, IOSSO® and IMAR®. Designed for a professional touch in caring for and cleaning your boat tops, clear vinyl, enclosures and covers.

303® products are specifically designed for Sunbrella® fabrics.