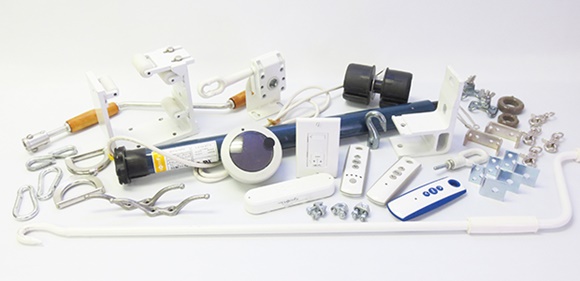 Awning Cranks and Handles

Awning Cranks and Handles for retractable awnings, cable slider shades and vertical drop screens. Parts for customizable cranks available as well.

Somfy® Electronic Parts

Somfy® Electronic Parts and Controls. Wide variety of awning controls including Somfy® Motors, sun and wind sensors. Control your awning with handheld or wall mounted remote controls with up to 16 channels.

Awnings with smart features are able to be used stand alone or integrated with other smart home controls.

Sharp's Tarps is an authorized Somfy® Distributor.

Roll Curtain Hardware

Roll Curtain Hardware including head rod clamps, porcelain rings and clips, deck cleats as well as other necessary components. Fabric replacement are available as well as head rod and bottom pocket roll tubes as well.

Awning Installation Hardware

Awning Installation Brackets and Hardware including retractable awning brackets and cradles, roof mount brackets and rigid frame hardware such as frame joining brackets and Z brackets.

Awning Care and Cleaning Products

Awning Care and Cleaning Products from 303®, IOSSO® and IMAR®. Designed for a professional touch in caring for and cleaning your awning.

303® products are specifically designed for Sunbrella® fabrics.